Strategic marketing to increase exposure & drive more bookings.
Keeping up with the trends and executing a marketing strategy in today's market can seem overwhelming, but we have your back! Our team of marketing experts handles everything from crafting custom property listings to digital advertising, email marketing, social media networking, and more.
Below are just a few marketing strategies you can expect to see and experience when you join the Atlas program.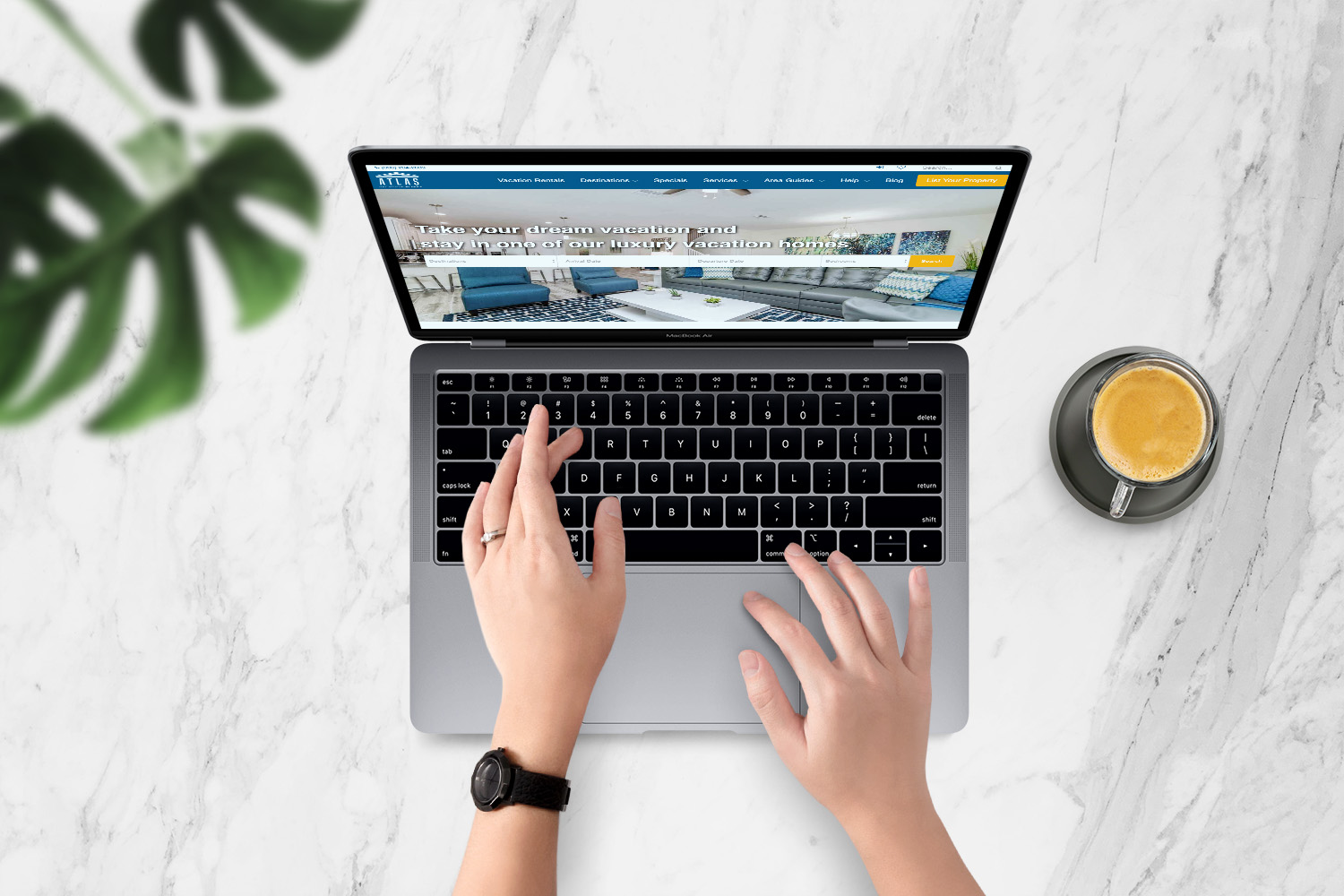 Direct Bookings
Finding a property and making a booking online is simple for our guests. Our user-friendly website is fully optimized for a smooth and seamless experience on both a computer and mobile devices.
Digital Advertising
We want to make sure your property gets in front of the right people at the right time. Our aggressive paid advertising campaigns on Google, Bing, and various social media platforms are one way we do this.
Past Guest Database
Creating lasting relationships with our guests is important to us and it's one of the reasons they come back year after year! It doesn't stop when they leave, we stay in touch by sending monthly emails.
Social Media Networking
With more than 15,000 followers across our social media channels, we have cultivated an enthusiastic audience that loves learning about and visiting Orlando.
Personalized Snail Mail
Effective marketing includes engaging guests through multiple avenues to stay top of mind, not just online. Sending direct mailers is another way we do this.
Print & Magazines
We want to ensure we get in front of prospective guests who are interested in Orlando and also advertise in top travel magazines and other print opportunities.
Followers on social media
We list your vacation rental on over 200 of the best travel websites…
HomeAway Sites
Abritel.fr
HomeAway.at
HomeAway.com.au
AlugueTemporada.com.br
HomeAway.ca
HomeAway.ca.fr
FeWo-direkt.de
HomeAway.dk
HomeAway.es
HomeAway.fi
HomeAway.it
HomeAway.com.mx
HomeAway.nl
HomeAway.no
HomeAway.pt
HomeAway.se
HomeAway.co.uk
HomeAway.com
Homelidays.es
Homelidays.com
Homelidays.it
VacationRentals.com
VRBO.com
Other Top Travel Sites
Airbnb
TripAdvisor
Expedia
Orbitz
Hotels.com
Travelocity
Booking.com
Kayak
Priceline
FlipKey
Tripping
Trivago
Venere
Hotwire
Smaller and Regional Sites
Owner Direct Vacation Rentals
Beachhouse.com
CanadaStays
Resort Reservations
AllTheRooms
Vacation Rental Supermarket
Vaystays
PerfectPlaces.com
VRGuest
Vacayhero
DestinNetwork
Trails.com
Rental Source
LakeHouse Vacations
RentByOwner
Travelprorentals
AND MORE…
Airbnb
HomeAway Sites
Homelidays.com
VacationRentals.com
VRBO.com
TripAdvisor
Expedia
Orbitz
Hotels.com
Travelocity
Booking.com
Kayak
Priceline
FlipKey
Tripping
Trivago
Venere
Hotwire
Smaller and Regional Sites
Owner Direct Vacation Rentals
AND MORE…
Build partnerships with the best…
And, create custom property listings for your Orlando vacation home
The majority of people start their search and complete their vacation rental reservations online. This means a comprehensive marketing plan is no longer optional, it's essential. Our experienced marketing team develops a plan specific to your home and creates a listing to display on our website and over 200 of the top travel websites, at no cost to you.
Your listing will include high-end property photography, a custom description with a list of property amenities, a 3D walkthrough, and a booking calendar to make reserving your home easy.